They say that eating a good breakfast is the best way to start the day. For some people, this means eating a nutritious meal full of fiber, vitamins, and micronutrients. For others, breakfast is the only time of day to indulge in their favorite sugary treats. While you'll never see nutritionists or dieticians jumping on this train, it's mostly harmless to submit in these guilty pleasure breakfast foods occasionally.
Waffles and Pancakes
Some people eat their waffles and pancakes with syrup and others with hot fruit and jam. Maybe you like to first slather a pat of butter on first to get that savory-sweet taste. The variety of waffles and pancakes are endless too. There are the easy make-in-toaster Eggo waffles and fancy Belgian waffles covered in strawberries, whipped cream, and chocolate sauce on the other end of the spectrum. For pancakes, you can get little silver dollars or giant stacks. There are "healthy" versions of waffles and pancakes, but if you ask me, do it the right way and get the unhealthy version because you might as well enjoy yourself while indulging.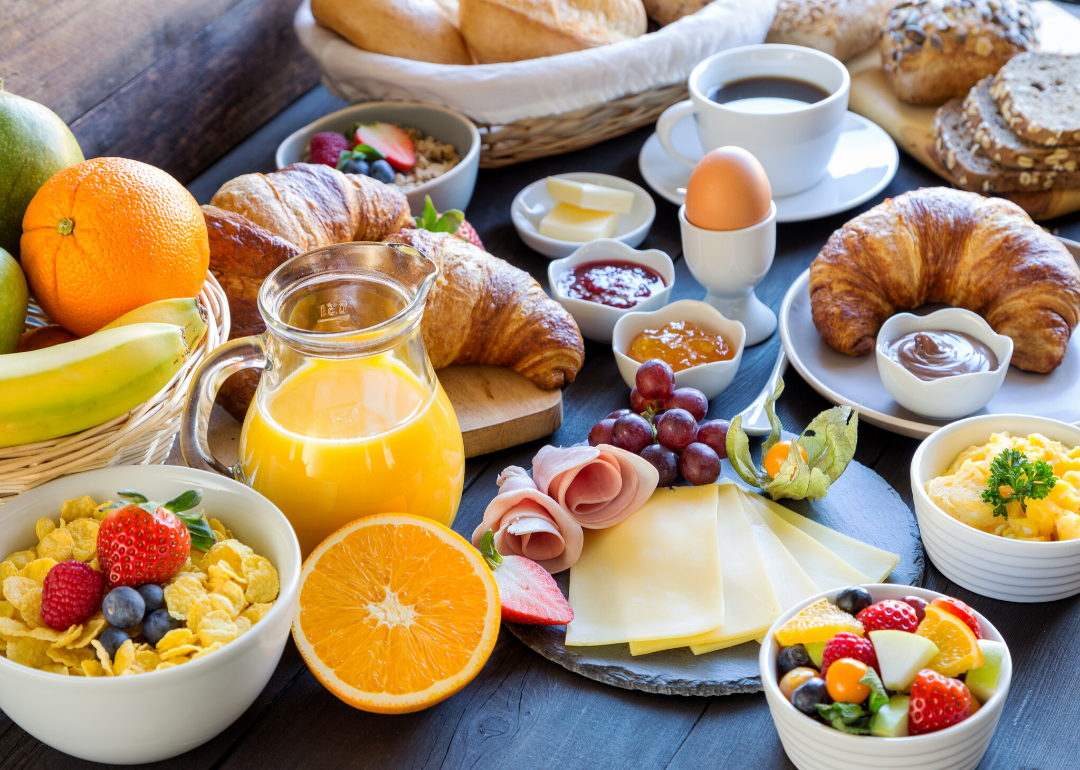 Muffins
Some muffins try to sell themselves as "health food", like bran, whole wheat, or multi-grain muffins. But we all know that the best ones are the chocolate chip or blueberry muffins (with no real blueberries in them) crusted with a layer of sugar on top. Muffins are portable, so you can enjoy this guilty pleasure while on the go. If you're a picky muffin eater, did you know that you can buy just the muffin tops to go? Yes, some places will sell you the best part of the muffin!
Donuts
Whether you like expensive artisanal donuts or you're okay with a 99 cent Krispy Kreme, donuts are one of my personal favorite guilty pleasure breakfast foods. They definitely won't fill you, and you may even experience a sugar crash. Or a sugar caffeine crash. But donuts are so delicious that it's hard to say no to them. Especially when they're still warm and soft. I'm getting hungry writing this. Take your pick between glazed, custard-filled, jelly-filled, or glazed with custard/jelly-filling.
Sugary Cereal
I went to a school where the cafeteria served Lucky Charms. Every morning, they would refill the Lucky Charms container, and within 20 minutes, it was empty. Around lunchtime, the cafeteria workers would fill the container again and again; within 20 minutes, all the Lucky Charms were gone. It got to the point where the school decided to discontinue this cereal because the cafeteria was starting to lose money. And that's all you need to know about the power of sugary cereals.
Croissants and Other Viennoiseries 
The French might look like they have their viennoiserie consumption under control, but don't be fooled. Everyone is addicted to buttery, fluffy, crusty viennoiseries… not just in France, but worldwide. So choose from croissants or chocolates or pain aux raisins or any other golden-crusted pastry. Nothing quite gets your brain going in the morning like a dose of fat and sugar. And you can feel fancy while indulging in this guilty pleasure. Bonus points if you're actually in France doing this.